THE NAME, THE IDENTITY
Sudham is pronounced \ 'Su-dhām \ or Su dhaam and phonetically written as Sudhām.
Derived from Sanskrit the name itself means GOD.
"Su" as a pre-fix in Sanskrit and in many other Indian languages is added to connote/mean GOOD and "Dhām" meaning "place" or "destination" is typically used in the context of Holy Places ergo "The Good Place" or "The Ultimate Destination" ergo GOD.
THE PERSON, THE AUTHOR
Sudham Ravinutala (Sudhām) is a passionate marketing professional who had taken the proverbial leap of faith to establish himself as a novelist with his first novel Eighteen The End of Innocence that was released in 2015. His debut effort even made it to the Top150 Romance Novels on Amazon India store.
His second and latest novel Twenty Somethings – For Love or Ambition after having created a pre-launch ripple on the Amazon India bestseller lists by entering the Top50 Bestsellers in the Contemporary Romance category and the Top25 Hot New sellers lists was launched live on Facebook on March 25, 2021.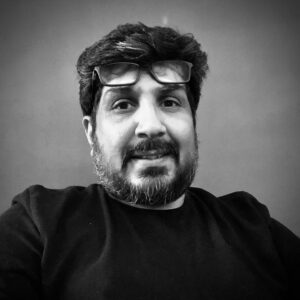 THE MARKETER , THE PROFESSIONAL
Sudhām has spent over decades working in various capacities with well known brands such as Nokia, Lenovo, TVS Electronics and more recently Micromax. He was the National Marketing Head of India's largest FM Radio Network – 92.7 BIG FM. Sudhām has also been the Head of Go To Market & Activation at MixRadio India.
Sudhām is presently associated as Assistant Vice President Marketing with Luminous – India's leading consumer electricals brand. He heads Marketing for the Solar Business and Solar by Luminous the direct to consumer play of the Schneider owned Luminous Power Technologies. A business that is changing India one rooftop at a time!
THE STUDENT
Born and brought up in Delhi, Sudhām finished schooling from Don Bosco, New Delhi. He then completed his Bachelors in Engineering from SIT, Tumkur (Bangalore University) and took his Post Graduate Diploma in Business Administration from SIMSR, Mumbai.
THE INFLUENCES
Ayn Rand meets David Davidar meets Franz Kafka meets Aravind Adiga meets Chetan Bhagat on Sudhām's book-shelf. An unabashed supporter of the quick read genre Sudhām has delved into short-stories as well. A keen observor of people and their behaviour Sudhām's influences stem from living in Delhi, Mumbai, Bengaluru and Chennai. He is also an avid listener of rock, Hindi film music, a trained violinist in the Carnatic style and a wannabe singer who was part of his school choir and the college rock band Dhwni.
References to music, student life and the cities he has lived in are an integral part of Sudhām's style of writing.
THE BEGINNINGS
Having started off as an avid blogger, Sudhām published two blogs www.keyedinthoughts.blogspot.com, a blog that showcases his poems, short stories and musings and www.abrandviewstory.com, a blog on brands and marketing that views the world from a marketer's lens.
THE FORCE(S) BEHIND
Sudhām lives with his mother, wife and two daughters in Suraj Kund near Delhi. His father Late Prof. Ravinutala Satyanarayana an accomplished author whose contribution to the world of Telugu Literature is much chronicled and lauded in the academic circles, was, is and shall remain his biggest inspiration.