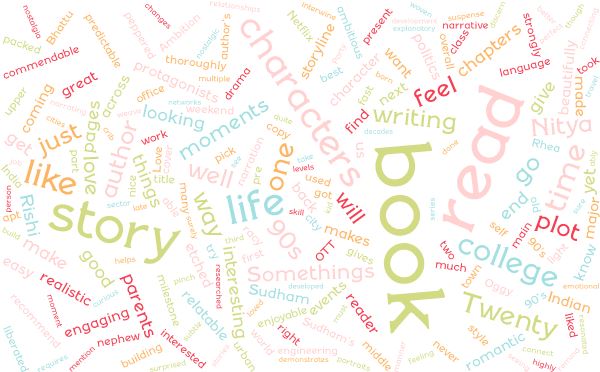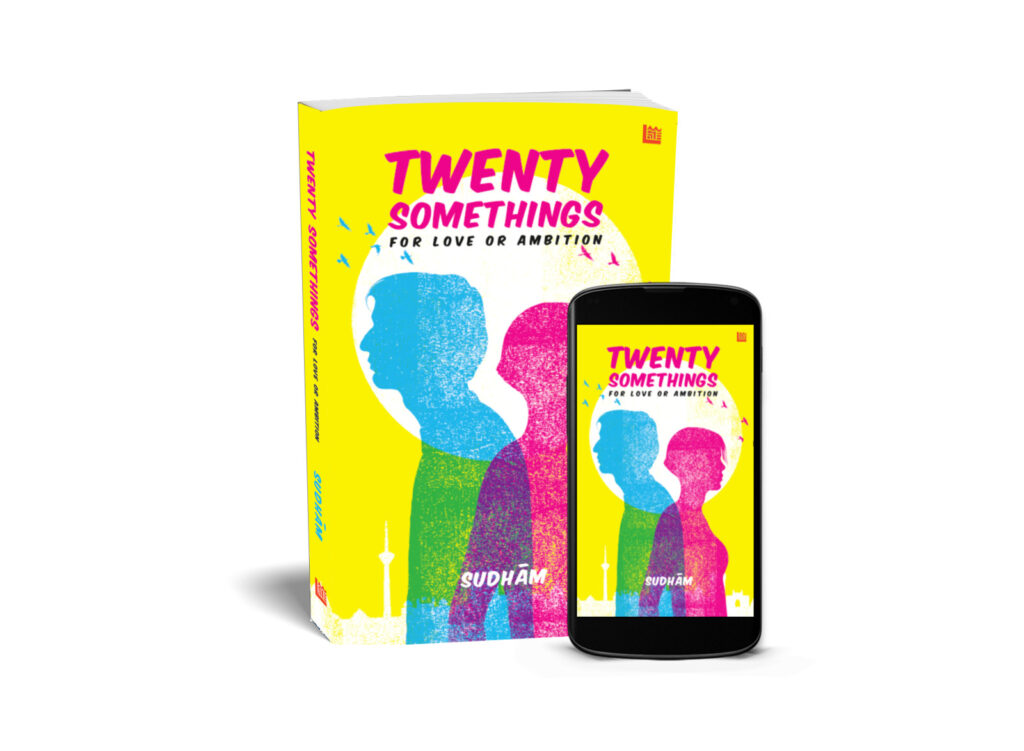 Having created a ripple on the Amazon Hot New Sellers Lists Sudhām's new novel which entered the #Top25 has been receiving favourable reviews since it's launch on March 25, 2021.
Twenty Somethings – For Love or Ambition has been reviewed by several readers who have posted their reviews on the Amazon Store, Goodreads and on Instagram . Do check them out!
---
---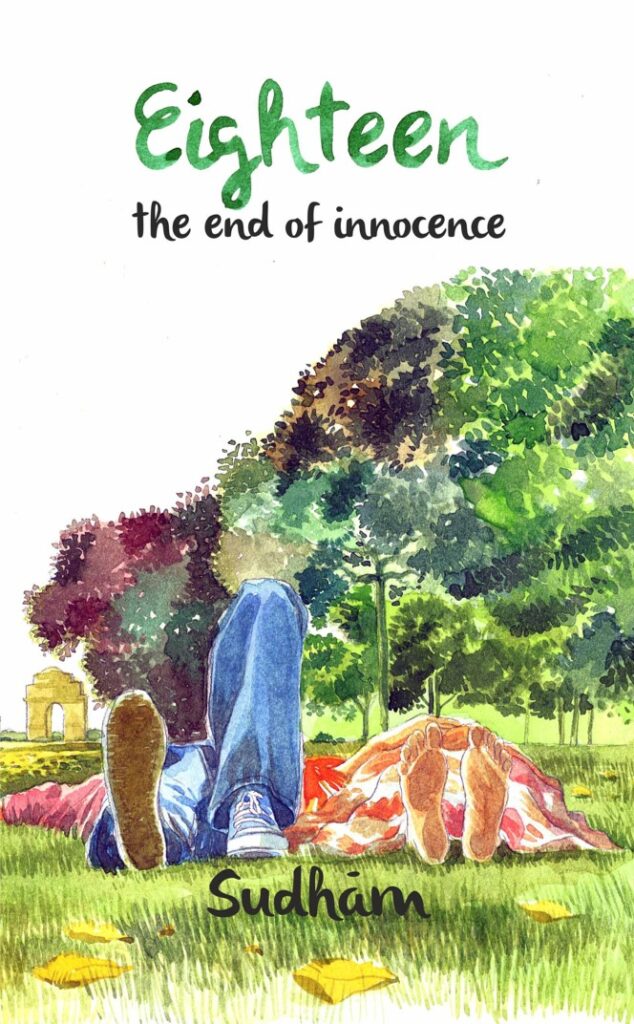 Eighteen: The End of Innocence, Sudhām's debut effort has been reviewed and rated by several readers and bloggers. In case you are figuring out whether Eighteen: The End of Innocence should be #YourNextRead do check out the reviews below.
You may also find reviews on Flipkart, Amazon, Kindle and on Goodreads.
You can also mail your review to [email protected] and have it featured on the website.
---
a review by Read Addict (www.readaddict.com)
Eighteen The End of Innocence by Sudham is a nostalgia. That is correct! This book takes us on a memory ride because it is a story of teenage years and the associated issues. Every one of us has been there and done that, which makes the book very interesting.
The story has three main characters, all going through the most amazing and puzzling phase in human condition, the teenage years. Raghu, Aadi and Shalini go about their lives in a fairly usual way. They are attending their school in the busy metropolitan city, Delhi and are enjoying their own sweet world. There are no half measures or secretive build-up in Eighteen The End of Innocence. Sudham quickly introduces anarchy in the already curious life of Raghu. One fine day, Raghu starts getting blank calls.
For an adult, it may not be a big deal. But seen from the mind of a teenager, it is a matter worthy of all the time. Raghu confides this strange happening to his best friend Aadi. Sudham uses all his experience and writing skills to describe very carefully the thought processes of a young mind, like Raghu. Raghu wonders and wishes that these calls may be from a secret lover or admirer, too self-conscious of revealing 'her' identity.
Shalini, the third character in Eighteen The End of Innocence, is in the same coaching class as Raghu. She tells him that even she is getting blank calls, a fact which is surprises Raghu and also defuses his hope of having a 'secret admirer'. But he and Shalini together decide to find the person behind this game. In this association, Sudham introduces love, or more appropriately, attraction. Raghu and Shalini are falling for each other and introduce a new dimension in Eighteen The End of Innocence.
The entire book is based on the happenings around these teenagers, whether in their real lives or in their minds. The write-up of Eighteen The End of Innocence, very easily suggests that real life experiences were a huge source for the plot. This is what makes Sudham's writing enjoyable. It is, as though, he is watching over and manipulating the puppets of his show called, Eighteen The End of Innocence. The third person narration lends credibility to the descriptive writing of Sudham.
A very interesting aspect of the book is the style employed in the story-telling. Raghu, Aadi and Shalini, each have a very interesting and different way of looking at things. Sudham lends importance to these characters by telling the story, as seen by each of them. Raghu's character in Eighteen The End of Innocence, evokes both positive and negative emotions in the reader, inducing a roller coaster ride. Also, the casual, relatable and simple writing, ensures that most people finish the book in one sitting.
1990's was a very interesting time to grow up in India. Although, separated by hardly few years from those growing up in 80's, these kids took to the sudden boom in technology and globalization in India, like a house on fire. Unlike the ones in 90's, those growing up in the 80's were not tech-savvy or exposed to a wide array of developments, that suddenly took India by storm. This difference is very starkly evident in Eighteen The End of Innocence.
One might expect that there is a certain degree of learning from Sudham's writing for the teenagers, since there is so much detailing of their lives. But, the author steers clear of this area and focuses largely on the main story resolution. The use of swearing language time and again in Eighteen The End of Innocence, might make one reconsider giving the book in the hands of teenagers. But, overall it is a very readable book for an average adult, especially one , who is keen on revisiting his teen years.
Sudham makes the readers aware of their own raging hormones, when they used to be just like these bunch of teens. Eighteen The End of Innocence, urges us to think and think hard about those times, when the world appeared to be such a beautiful place.
Book Details
| | |
| --- | --- |
| Book title | Eighteen The End of Innocence |
| Author(s) | Sudham |
| Genre | Fiction |
| Publisher(s) | Leadstart Publishing Pvt Ltd |
| Published in/on | 2015 |
| No. of pages | 238 |
| ISBN-10 | 9352013565 |
| ISBN-13 | 978-9352013562 |
---
a review by Nita Berry ( www.thebookreviewindia.org )
VOLUME XL NUMBER 6 June 2016
Eighteen: The End of Innocence is a book dedicated to coming of age. Those sensitive teenage years which oscillate between childhood and adulthood are often beset with physical, mental and social worries. Books dealing with this time of life could be both a guide and friend. Yet there has been a regrettable gap in our literature for the young adult. This vacuum is recently being filled with novels on adolescent years and college life by a host of upcoming young authors.
Set in Delhi in the 1990s, Eighteen is all about the lives of three teenagers—Raghu who is in the final year at a boys school, his girl friend Shalini and his best friend Aadi. It deals with their dreams and fears, friendships and escapades at the end of their school years as they make the turbulent transition from adolescence to adulthood. The newfound freedom leads to a scenario only too familiar to teenage readers—short attendance as a result of bunking classes for a beer, movie or momos—money worries—trendy girlfriends to impress buddies—mysterious blank calls, music in parking lots, the high of speeding on wide avenues in the dead of night, a brush with the cops… New preoccupations like falling in love, contraception and sex, worry and abortion—all are juggled together with hectic tuition and exam schedules, college admissions, results… As affairs fizzle out and glitzy dreams fade, there is eventual merger into the mainstream with a conventional job or career, as the Prologue seems to suggest.'Being young is tougher than it seems. Every generation has its own set of issues to deal with…' before settling down onto the beaten track!
Youngsters will readily identify with the lives and language of the main characters, their relationships with their peers—and parents who come across as woefully traditional and obtuse, but are unexpectedly supportive in a crisis.
The dialogue is fun and the local slang reflects teenage banter. There is humour in many situations—like driving 9 km in reverse gear at the dead of night. The writing is no great shakes but the story unfolds without frills, simply and directly, which is what teenagers would welcome for a quick read.
The narrative has been split into sections under the names of the main characters. This could have been a great stylistic device had it been used effectively. Shoddy editing detracts from an interesting read, and basic punctuation is sadly lacking throughout the text. The publishers would have done well to have taken care of this major flaw in the book—which is attractive even if one were to judge it simply by its title and cover.
---
a review by Chetan Maheshwari (http://thoughtsofchetan.blogspot.in)
Eighteen The end of innocence is a story of Raghu, Aadi, Shalini , and, also you and me. It is because that we can connect with the story in some way or the other, and would remind us of our teenage days.

The book started with the protagonist Raghu and his life when he was to take final exams of school. The story moved on with putting up his views, generalities of his life and his friends. It all started with him making a choice for his life about his education, his friends and his girl.


The first thing that I liked about this book was that an Indian author had written a novel in a third person style. I have not seen many Indian authors doing that and I prefer reading books this way, so I was on hook from the first page. The story however was a bit slow in the beginning, but you wouldn't come to know that you were gripped with the story with the finish of first quarter. Each chapter started with telling you the glimpse of what must have happened in some words and left you guessing till the end. I liked this way of putting up the story.
The characters were drawn beautifully, and my favorite character in the book was Aadi. This portrayal of characters was also one thing that many Indian contemporary authors, who write mushy mushy love stories, don't do. I say this because I picked up this book with same image, but by the end this book had already formed its unique image, and this is not some normal repetitive Indian mushy mushy love story but I would say a unique story in its own way. All the cracks that were opened in the story were sealed appropriately. The story was complete in every sense and that has left me, not happy, but very satisfied with the ending.

The editing of the book was also done quite nicely. There were meanings of Hindi words given at the end of each chapter. Even a foreign English novel with German words in between does not put meanings at the end or anywhere in the book. Many small things have been taken care of and all of that has made this an enjoyable read.

On the whole I suggest this book to all those who like reading love stories written in a simple language, to all those who want a break from reading sci-fi or non fiction books, and also to those who only read books when they travel.
---
a review by Dhivya Balaji – Readers' Muse (http://readmuse.blogspot.in)
HOW I GOT THIS BOOK:
The author sent me a review copy in exchange for a honest review. I thank the author for providing me with a paperback copy first and a digital one on request.
FIRST IMPRESSION:
The title – while 'end of innocence' could mean a lot of things, most people often come to a common conclusion that it has to mean the end of childish innocence and one hell of a ride into adulthood with drinks, drugs and other 'forbidden' pleasures. This book speaks of these things – albeit in the 90's era. The cover, beautifully designed and aesthetically pleasing, was one of the reasons why I picked this book up.
REVIEW:
I am a '90's kid'. There. Confession made. It both saddens me and amuses me that '90's kid' has nowadays become a legitimate term to denote nostalgia, a wistful trip down the memory lane and feeling all the things that one would feel at 40 at the tender ages of 25 to 27, sometimes 30. I should begin my review by thanking the author for not stereotyping the 90s and instead making the book genuinely interesting.Raghu is the regular 90s boy – someone who juggles school, romance, friends, happiness, strict parents and a middle class life – with hormone infused desires. But he endears readers by being a boy in control of his senses and not doing anything disastrously bad. Yes he makes mistakes, screws up certain things and manages to move on, grow up and become a man. Eighteen The End of Innocence is the story of adoloscent kids – friends who get together and experience life. It is simple, clean and narrated with very few twists and turns.The story is everything the summary promises. There is the mandatory love and the small confusions that arise when the best friend is sometimes given less priority once love happens. Other than the lead characters, the 'supporting cast' also have some blink and miss appearances – that says more about the way of life than the writing style of the book. The age of eighteen is usually when boys and girls move on from the friends they made since they were kids and instead search for new 'adults' to make friends with while they go away from the nest for higher education. The characters of Shalini, Adhi and the little intrigue of the identity of the blank caller were what kept me reading the book. It took me down the memory lane – when cellphones did not exist and when blank calls over landline telephones were very much a noticeable menace. The author manages to capture the spirit of life in the nineties with elements like the tension surrounding the entrance examination, the habits and behaviour of teenagers back then and how life generally was before technology invaded every aspect of our lives. Special thanks to him for not making any of this sound stereotypical or over the top. But, on the other hand, the book had the potential to be something more than this. While I did not really expect a moral from the story, I did look forward to a few twists that differentiated this book from other novels of this genre – and was, in most cases, disappointed. It was about the nineties – the time when friends just showed up at our doorstep unnanounced and the main phrase used was 'let us meet up and plan our outing' instead of 'let us plan and meet for a dinner'. The innocence, the unhurried hustle and of course the beauty that is the nineties had a lot more scope for spinning a yarn. The good and the bad said, this book is a nice read. It stays true to the summary, delivers what it promises – without many twists, and has good language. Though some parts might seem like additions to the story to tell you more about how life was back then, they add to the overall charm. If you are a '90s kid' and want to read an honest book, this one would interest you.
WHAT I LIKED:
The characterisation of Raghu – a good blend of uncertainty, moral fibre, daring and confusion
The narration – at places
The beautiful cover picture
WHAT COULD HAVE BEEN BETTER:
This book had the potential to make one very nostalgic. But somehow, this does not offer much to take back except the occasional smile as we read certain things
The climax scene (the car chase) almost resembled an appendix – one that was added to create an interesting ending.
VERDICT:A coming of age story that gives you nostalgia, if you have done the few things 'innocent' youngsters did in the nineties.
RATING: 3.75/5
---
Sudhām's Eighteen The End Of Innocence is a story about the drastic changes one faces when he/she becomes 18, it is the time to decide what career does one wants to choose & also prepare for the upcoming hardships which also might include separation from friends but it also includes self dependence & freedom. The story is set in 1990s Delhi & starts with our main character S. Raghuram, a 17 year old boy appearing for boards as well as preparing for his entrance exams at a coaching institute, which proved itself to form a link to Svetlana. But it didn't actually planned out as the way they wanted it to be *typical first love*. In the mean time he has been receiving blank calls which really have been taking a toll on him. While life was getting along with his best friend Aadi AKA Aditya Mohan Sharma his partner in crime & other friends he suddenly met with Shalini who also claimed to be receiving those blank calls. This link proved to be a boon for them but who was the caller & what was his/her motive behind it? This story will take you on a ride when you were 18 & the choices you or your friends made. The kind of rush young adults feel when they finally find 'freedom' which if not controlled can lead into difficult situations. The story is simple yet will surely take you down on a stroll to the memory lane.
---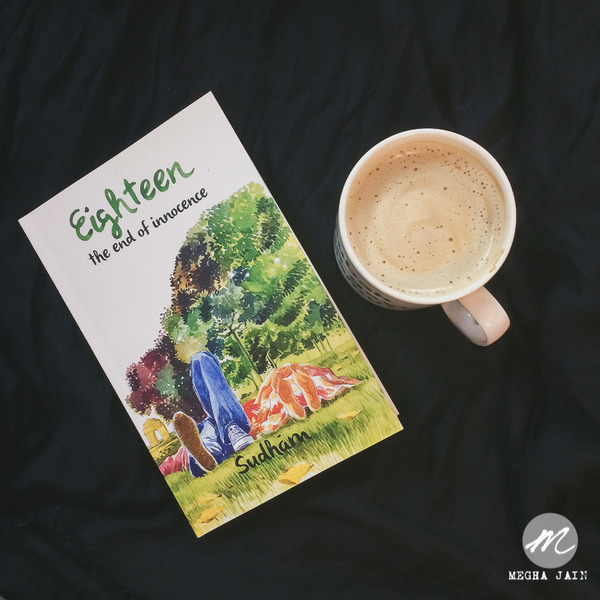 Source: Author (Signed Copy)
How long it took me to read: A day
Rating: 4/5
My Thoughts: I quite like the writing style. Set in 90's era, the entire 3/4th book goes as a journey from school days to career choices and college struggles. Between friendships & love, the feelings of each character in the book are conveyed effortlessly in words.
I love the last 1/4th part of the book. Here each character which earlier plays an equal part through the book has a dedicated chapter on their lives which helps connect better. There is simplicity in this book which makes it special & there is just something in this book we all can relate to. Maybe it is for the fact that we've all probably faced every bit of excitement in silly things and we've all have had groups which did change in some way or the other over the growing years.
It is a nice light read. Honest, minus the high-drama. Little details make it a good read. You can look forward to flashbacks of your own life as the memories of something relatable pops up.
My Favourite parts in the book: I loved how effortless this book shared stories of characters all in one and then one by one.
Going to stay on my Bookshelf? Yes. Firstly because it is a personally signed copy. Secondly, because the book is a pleasant light read.
I don't know what plans the author has, but I would be interested if a sequel of the same comes out in 2016! The character built us is that good!
You can buy this book on Amazon.
---
a review by The Tales Pensieve (www.thetalespensieve.com)
We are termed as the Y generation. Science and technology has progressed and reached a level where nobody can function without Internet. Like every coin has two sides, this definitely has it's own share of cons. Teenagers are feeling lonely. Relationships have become futile. Intrigued to know about their day to day issues, I decided to read this one.
Raghu, like most of the teenagers has a circle of friends who he is attached to. They have fun together and also fall into various difficulties. But all of them support each other through thick and thin and that is the beauty of their friendship. Aadi, is his closest buddy out of all of them. Raghu, then meets Shalini whom he falls in love with. They start dating very soon. Whether all of them together are able to solve all the difficulties they get into and get a direction in their respective lives, is the story of Eighteen:The End of Innocence.
Firstly I want to mention that the cover page has been designed really well. It captures the essence of the storyline pertinently. The characters of Raghu and Shalini have been carved out well. They have not only been written as any teenage lovers but have also been projected maturely when required. The camaraderie between Aadi and Raghu has come out well, as well. The sincerity and honesty of their friendship comes across to the reader very evidently. The way, all the characters support each other, makes you yearn for such friendships. The final call that Raghu and Shalini take for their relationship was surprising but a delightful one. The author has given a very realistic treatment to it.
There are many characters in this narrative. I was not very impressed with the way they were all introduced. It was very confusing. Initially, one wants to keep a track but then as it gets difficult, the reader tends to skim through and read more about the main protagonists – Raghu, Aadi and Shalini. Kudos to the author for being brave enough to highlight the grave complexities that teenagers face these days, but I was not very happy with the way the solutions of those problems were put up. They were too simple. In my opinion, if it was this simple these would not have been problems in the first place. The solutions should have been more mature but I wish the guilts, the repercussions that the characters face could have been more stringent.
This being a book on teenagers, I comprehend the kind of audience the author wants to reach out to and therefore it is well taken that the the writing is very breezy. But the constant hindi connotations put me off completely. Not only words but there are sentences also in hindi which kind of break the flow and imagery for me as a reader. The chapters are very concise. For some readers it works, but for a reader like me it breaks the continuity. I feel a book becomes interesting when at the end of every chapter, there is a certain curiosity to read the next one. Sadly none of the chapters evoked that curiosity fir me. The initial chapters make for a very dreary read. It only picks up after the love story begins. The book has been written from all the three protagonists perspective. But Shalini and Aadi's perspective comes at the fag end. Also when one reads from Aadi's perspective, it feels repetitive because most of the story had unfolded, and his feelings were very evident earlier.
Sudham has done a very good job by not only highlighting one issue but a series of issues that teenagers face these days. Premarital sex, drinking and driving, confusions regarding one's future – the story woven around all these has a lot of potential and would have been true to its form if the editing was to the T. Also the book would have made for a brilliant read if the contriteness was severe.
Title: Eighteen: The End of Innocence
Author: Sudham
Publisher: Frog Books
Pages: 236
Genre: Fiction/ Romance
Rating:2.25 of 5.00
---
a review by the other brain inc. (https://freemindtree.wordpress.com)
Doesn't the book title remind you of the famous Bryan Adams song – Eighteen 'til I Die..? Sure it does to me.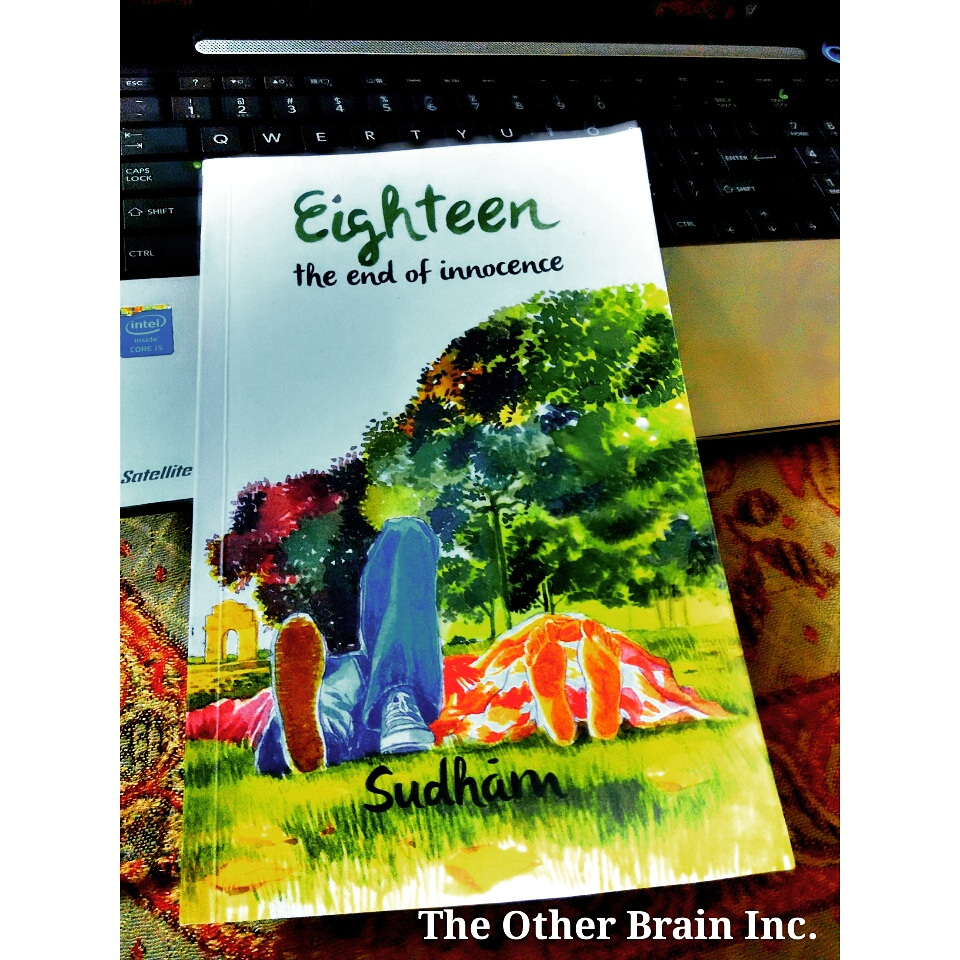 I wanna be young the rest of my life
Never say no, try anything twice
Till the angels come and ask me to fly
I'm gonna be 18 till I die..
Well though it is often said that one shouldn't judge the book by its cover but for a book lover who is out there to select a book amongst hundreds of other books, the first impression that happens is by the book front and back cover. Front because it carries the title of the book and back cover for it has the snapshot of the book story/content. This book has a beautifully designed cover that makes the book more appealing so has more chances of being picked up.
The Plot:
It is a teenage life story of Raghu and his two friends Aadi and Shalini. The book takes the reader through some very relatable instances most of us have had when we were in the teenage. A series of mysterious blank calls intriuges Raghu the protagonist of the story. While he is busy coming of age with boyish indulgenes like friendship, studies, introduction to drinking and girls, he gets to know Shalini ultimately falling in love with her.
What Didn't Work for Me:
Proofreading at some instances could have been better.
Using local language is acceptable when used only at some instances. This novel had way too much use of Hindi wordings which in my opinion might be difficult for a non-Hindi reading person to comprehend.
Swear words v/s slang words: I feel there is a fine difference between the two. Use of swear word was I felt could have been avoided to make the well-written story to a higher level.
There are a number of teenage incidents that author has weaved in the story but these incidents especially the ones which teenagers can learn upon have been left without the learning part.
What Worked for Me:
The story and many incidents narrated in the story are very relatable to most people who grew up in 1990s era.
Small chapter size.
This book's story has been narrated so seamlessly that one wants to go on reading from one page to another. An apt book to read in a single sitting.
This story of Raghu makes stirs emotion like happiness and sadness inside you.
About the Author:
Sudhām is a passionate marketing professional turned novelist. Before he left his job as the National Marketing Head of India's largest FM Radio Network-92.7 BIG FM.
Born and brought up in Delhi Sudhām is an avid blogger and has blogs named
www.keyedinthoughts.blogspot.com, a blog that showcases his poems, short stories and musings and www.abrandviewstory.com, a blog on brands and marketing that views the world from a marketer's lens.
'Eighteen' is his debut book as a novelist.
Verdict:
My rating for this story book and a potential film script would be 3/5.
It is not completely a fictional story but a story of every teenager in some way or the other. This novel reminds you of Chetan Bhagat authored books as it is simple in language and has friendship as a highlight. If you wanna smell nostalgia or wanna brighten up a boring day by an interesting read, this novel can be a good choice.