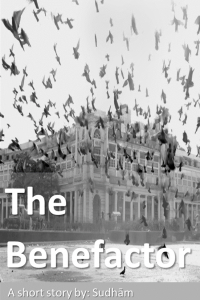 If one were to hear how Dheeraj and Uma got together, the story would have all the elements of a typical Bollywood potboiler. Love at first sight, strife, parents opposed to the relationship, you name it! Theirs is a relationship most of their friends swear by. But this is not a testament of their love, it's a tale about how they started their married life.
It must have been the late eighties or the early nineties at best. Dheeraj was in the final year of his Bachelors in Science. Our man however harboured hopes of becoming a poet…a "shaayar". Never had the courage to tell his father though!
The evenings in the boys' hostel of Jamia Millia were renowned for their "mehfils". Aspiring shayars would gather and exchange views over endless rounds of tea & cigarettes into the wee hours of the morning. Dheeraj under his pen name "Gaafil" had gained considerable repute. A name that had started finding a mention in the haloed corridors of the Sahitya Akademi.
Uma had just completed her BA in Journalism and had joined the Mass Communications program at Jamia. Incidentally poetry was a passion of hers and in the few months that she had spent in Jamia "Gaafil" and his poetry had a special corner in Uma's heart. I did say the story has the elements of a pot-boiler didn't I?
It took two years of travelling in the same "U Special" and Uma Parthasarathi joining the Mass Communications program for Dheeraj Singh to find courage to speak with her. Notes with poetry and walks from the bus stand eased them into falling in love with each other.
Time fleeted. Dheeraj was now a part of a theatre troupe and Uma had found employment with one of the TV News channels. Their offices were in Connaught Place and the Coffee House became their haunt.
Neither of their parents were for this relationship. While Dheeraj's father was opposed to the concept of love in general, Uma's father had a range of issues. For starters, Dheeraj was a North Indian, to top that he was younger that Uma and finally he barely was earning! The only voice of reason was Uma's mother who very pragmatically suggested Dheeraj change the one thing he could; find a job!
Everyone at the Coffee House knew and rooted for Dheeraj and Uma. Their standard order comprising 1 Veg Cutlet, 1 Plate Idli, 1 Masala Dosa and 2 Coffees would be ready to serve even before either of them reached the cash counter to place the order. The cashier Rampal Yadav an elderly gentleman, would look forward to Dheeraj and Uma each day.
They would take the same seat every day discussing everything ranging from work to the new ways their parents would come up with for them to separate.
"Add 3 plates of Gulab Jamun to the usual today Chacha," said Dheeraj to Rampal ji as he approached the counter. "It's celebration time!"
"What's special? Are you getting published finally?"
"Even better Chacha! We got married!!"
Both Dheeraj and Uma seemed happy. Rampal ji couldn't but help notice how pretty Uma was looking in her Kanjeevaram. They did make a fabulous couple indeed.
They kept their marriage a secret from their parents till they could no longer keep it one. The pressure was mounting on Uma to get married and she was left with no choice but to reveal the truth.
Dheeraj and Uma set off house hunting.
"Three thousand a month and three months rent in advance," Dheeraj said, concern writ large in his voice.
"Don't worry, I have fifteen grand saved up," said Uma reassuringly. "It's small but I love it. Plus Patel Nagar to CP is also convenient."
During the course of the next few months they went about converting the house they had rented into a home. Of course, their meetings at the Coffee House continued.
"It's gorgeous and I know it would be just perfect for our setting." The excitement in Uma's voice was palpable. She was talking about a sofa-set she had seen at Panchkuian Road.
"I should be hearing from the agency too. I have penned a few jingles for them. We could use that money."
"Who said anything about buying it?" Uma said.
"Okay, atleast tell me where you saw it. Let me check it out too."
The next day when Dheeraj walked upto the cash counter Rampal ji hesitantly said, "Need a loan beta?"
Dheeraj who perhaps was not in the best of the moods erupted saying, "Doesn't that signboard behind you say No Credit Chacha ji." Rampal ji did not push the matter further. Dheeraj and Uma finished their lunch and left.
"Hey!! That's the one I was talking about!" Dheeraj and Uma were walking back home from work that evening when she pointed out to a hand-cart laden with a sofa. The man seemed to be asking for directions.
"Hmm…nice indeed," Dheeraj commented. They climbed up the stairs to their first floor apartment secretly yearning for the sofa.
Uma had just put the kettle on the boil when the door-bell rang. She opened the door to find the man who was pushing the hand-cart at the door.
Uma turned and gave Dheeraj who had joined her a hug.
"You are so bad!! You wanted to surprise me did you?" said Uma playfully punching Dheeraj.
Dheeraj was too dumbfounded to react.
"You have the wrong address…I think," he said hesitantly, aware that Uma would be left heart-broken.
"You are Dheeraj Singh. Aren't you?" asked the cart man.
Dheeraj nodded.
"Then this is yours," he said pointing to the sofa-set.
"Or else," he continued, "Pay me the charges and I shall carry it back."
Dheeraj looked at Uma almost as though seeking agreement and said, "Okay leave it here. I shall pay a visit to the shop tomorrow."
The sofa set placed where she had always imagined it. "We could probably give some advance and pay the balance in installments," Uma suggested.
The following day Dheeraj and Uma skipped lunch at the Coffee House and made their way to Wadhera Furniture House on Panchkuian Road.
"The sofa set has been paid for. We only deliver against full payment," the shop owner said. "An elderly gentleman had come down, he saw the piece in the show window, made payment in cash and gave this delivery address."
"Could it be Appa?" Uma wondered aloud. "I did mention that I really liked a sofa-set when I was speaking with Amma the other day."
"There's a public telephone nearby, call them." Dheeraj said. "Tell them that we shall pay them back gradually."
"Hello Appa! Thank you so much Appa! I knew you would come around one day," Uma gushed as she spoke.
"Wrong number." With that a curt voice at the other end of the line disconnected the call. Uma started sobbing uncontrollably.
Sensing the situation Dheeraj suggested that they take the rest of the day off, grab a bite at the Coffee House and head home.
"Where's Rampal ji today?" Dheeraj asked the person manning the cash counter.
"Oh! I am sorry he passed away. Did you know him?"
"What…..how???!!!!" Uma shrieked.
"He was crossing the street on Panchkuian Road a few days back, when he met with an accident. Must have been six or six thirty in the evening. A car jumped the traffic signal and ran over him. Right outside Wadhera Furniture House…."
It's twenty years since they got married. Dheeraj and Uma have two lovely daughters now. Dheeraj is a Creative Director in one of the leading ad agencies and Uma an Editor with the same news channel that she had joined.
If ever you are invited to their residence, you shall find that the pride of their house still is the sofa-set and a picture frame with Rampal ji's photograph on the wall right behind it.